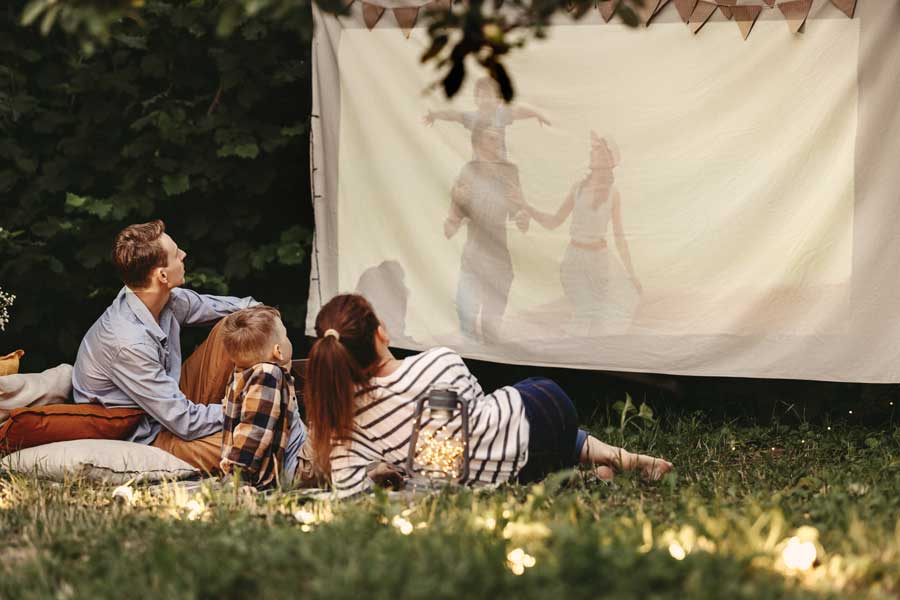 At Handler Homes, our aim is to build homes that are everything that families want and need. Once you are moved in and settled in, it's time to start making memories! And what better way to make memories on a summer night than with a backyard movie event. If you have never had a backyard movie night before, don't worry. If you follow these tips, you'll be well equipped to host a fun and memorable evening.
Set Up a Movie Screen
Of course, you'll need a movie screen! If you don't have a large white wall or a projector screen, you can create a DIY movie screen using a white bed sheet or a white, light-colored fabric. Hang it securely between two trees, a fence, or a freestanding frame.
Get a Projector
Invest in a quality projector that suits your needs and budget. Ensure it has sufficient brightness and resolution for outdoor viewing. Place the projector on a stable surface, such as a table or tripod, facing the movie screen.
Arrange Comfortable Seating
Provide ample seating options for your guests. You can use outdoor chairs, loungers, blankets, or even bean bags. Make sure everyone has a clear view of the screen and is comfortable throughout the movie.
Create a Cozy Ambiance
Set up your backyard with cozy elements such as outdoor cushions, blankets, and string lights to create a warm and inviting atmosphere. Consider using citronella candles or bug repellents to keep pesky insects at bay.
Arrange Snacks and Refreshments
Movie nights call for delicious snacks and refreshments. Set up a concession stand or a snack table with popcorn, candies, nachos, and drinks. You can even provide themed snacks that relate to the movie you're screening.
Check the Weather Forecast
Keep an eye on the weather forecast leading up to your movie night. If rain or inclement weather is expected, have a backup plan indoors or reschedule for another suitable day.
Remember to inform your guests about the outdoor setting so they can dress comfortably and appropriately for the weather. With these tips, you'll be well on your way to hosting a memorable backyard movie night!
By Handler Homes 7-25-2023